November 4, 2016 • Contributor: Contributor: Andrea Greco
Oh, how I love a dinner party. We've all been to memorable ones. There are the kinds that are memorable for good reasons: lively conversation, charming guests, interesting table decor, fun music, tasty food, favorable lighting, etc. Those are the kinds of parties we want to attend. Those are the kinds of parties we want to host!  Then, there are the parties that are memorable for the not - so - good reasons: long, awkward silences, that weird cousin that showed up, paper plates and kid's table status at the age of 24, your uncle's refusal to upgrade his stereo system because his-8-track-player-still-works-and-Slim-Whitman-is-good-listening-for-everyone-so-stop- nagging-me-about-it-already, that Jell-O mold that never solidified, etc... 
Throwing a great dinner party is totally do-able but can be a little challenging during the holidays. Don't get stressed! Although I can't disinvite second Cousin Gary from Weehawken OR come over and prepare your Turducken, I CAN offer some design inspiration that will help you make your table the talk of the party. Don't have budget for new dishes? No problem! I have put together a buyer's guide of products from my favorite stores that should accommodate most budgets.
Alright. Let's get started with our color palette. I know. It's Thanksgiving. Everything needs to be rust, orange and brown, right? WRONG! Thanksgiving can be any color you want it to be! I think people get into a holiday decorating rut when they designate colors to seasons. Don't get me wrong – I love fall colors and I love rust, orange and brown for Thanksgiving. If that is your palette and it makes you happy, I say "YAY!" If you are looking for a reboot, I'll show you what I'm going with this year: Cream, pale pink and gray with hits of gold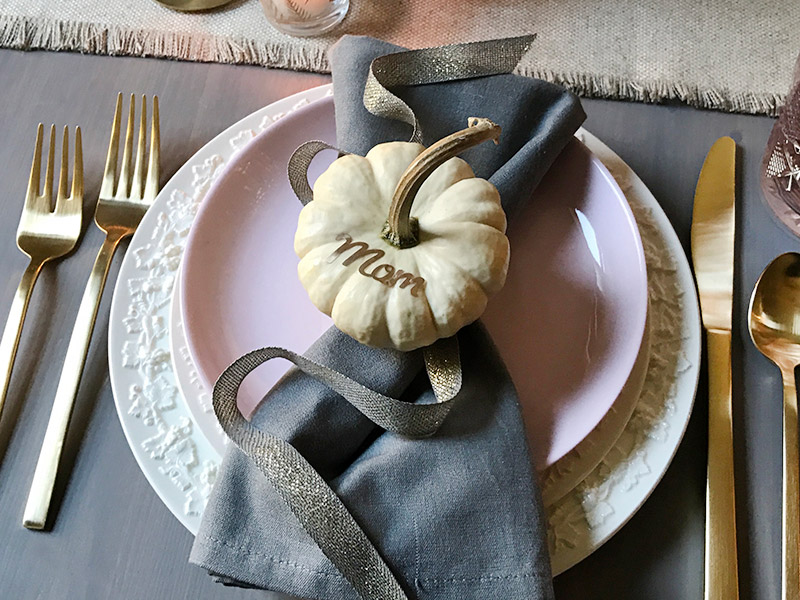 Photo Credit - Andrea Greco
I just love this palette. It makes me happy. I think it's modern and a little unexpected to see pink at a Thanksgiving table. The addition of gray and flax balance the overwhelmingly feminine presence pale pink can exude. If a pink plate is still too much for you, a muted grey or cranberry colored plate will also work beautifully. 
Get the Dish
Growing up, setting the table during the holidays was a very big deal. We would always use my Mom and Dad's special creamy-white Wedgewood wedding china. Those dishes were so much heavier than the microwave-safe Corelle on which we normally dined! A Big Mac would be Thanksgiving to me if it was on one of those Wedgewood plates. So, it was a natural for me to incorporate them into my décor. Instead of using the full Wedgewood service however, I am only using the dinner plate and layering a pink salad plate made by MUD Australia. This makes my setting a little less stuffy but I still feel like I am incorporating my mother's tradition. Below are some buying options if you want to get this look.
Your Flatware Doesn't Need To Fall Flat!
Who likes to polish silver? Try out some of these gold options!
Get Your Drink On!
Colorful glassware brightens up any table! Here are some of my favorite finds:
Make This Stuff!
Why buy some of these things when you can make them, right? In the following weeks leading up to "The Big Day," I will be releasing instructional posts detailing the decorating projects listed below.
Placecards
Seat assignments are key. First, it makes your guest feel special that you put in that little extra effort to give them their own very special seat. Second, it gives you absolute power over who sits where and who sits next to whom. Regardless of your motivation, they are a lovely addition to a Thanksgiving tablescape. You can easily craft mini pumpkin versions using the copper adhesive paper and your Cricut!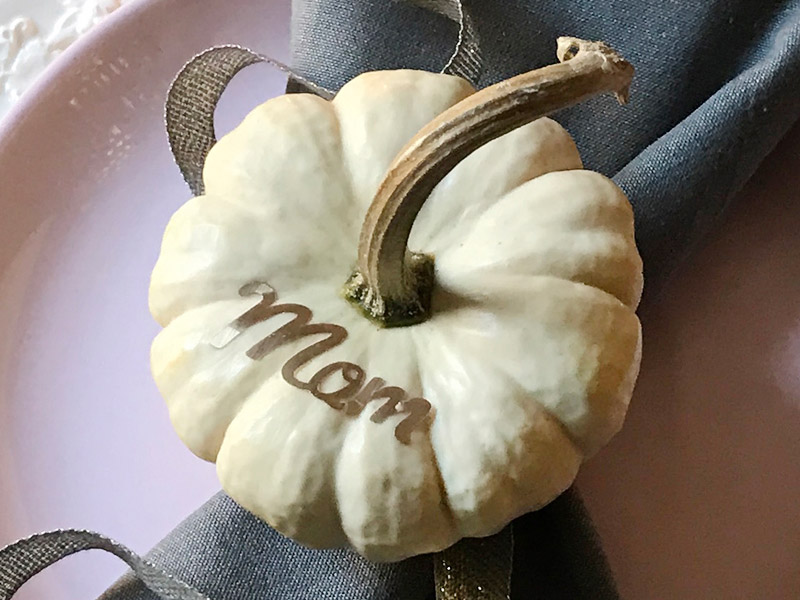 Photo Credit - Andrea Greco
No Sew Table Runner
You COULD buy this at Pottery Barn. OR, you could make it for about $15. No machine needed!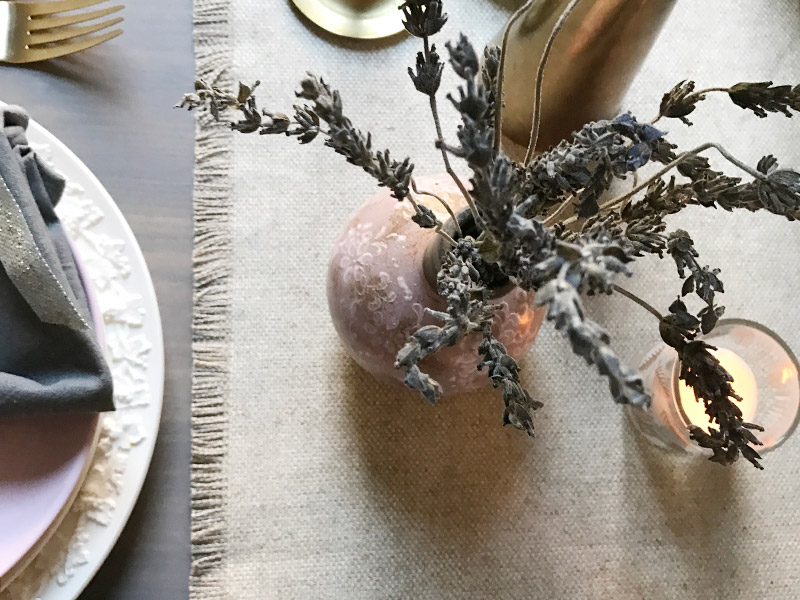 Photo Credit - Andrea Greco
Leafy, Little Luminaries
Are You Ready For Your Close Up? Everyone looks better by candlelight, am I right? I am a big fan of low light and lots of candles at a party. Candles just make a room cozy. Make these beautiful leafy, little luminaries that are both decorative and functional. Plus, they are a cheap and cheerful craft. You can even use them as a takeaway gift for you guests.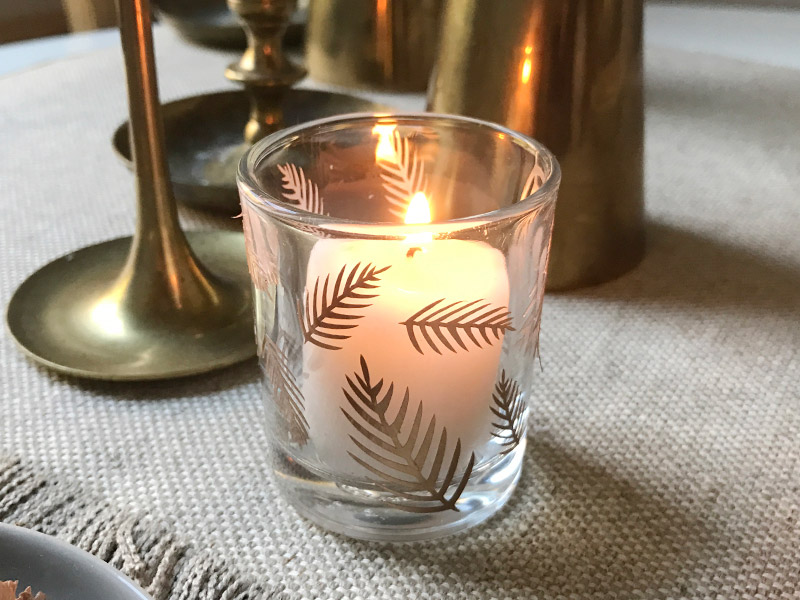 Photo Credit - Andrea Greco
I SO hope you liked these ideas! Check in next month for some crafting how- to's!
Let the holidays begin!!!